Are you ready for Google jobs?
Posted

May, 2018
Google for Jobs has been in the US for nearly a year now and it's strongly rumoured that this jobs-only search engine will be hitting the UK soon
Prospects has been working hard to prepare for the arrival of Google for Jobs, to make sure that jobs posted through our site will be live on the platform from day one in the UK.
What is Google for Jobs?
In case you haven't heard about it, Google for Jobs is a brand new 'search experience' that will appear on the Google website when you search for jobs. Search terms like 'marketing jobs', 'jobs in Manchester' and searches that include an employer name have all been shown to bring up the new job search in our tests.
Users are able to filter their job search on the Google website using data such as job title, date posted, location and company sector.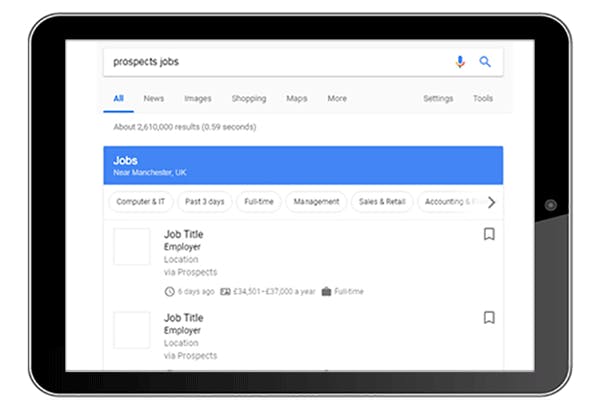 What will it mean for jobs posted on the Prospects website?
We're confident that the launch of Google for Jobs in the UK will be a great thing for Prospects. Our website is ready for the launch of Google for Jobs and users of the new search experience will be able to find jobs posted on our site through the tool from launch day in the UK. We're also working on further improvements to our data, to ensure that your postings on Prospects are seen by as many users as possible.
If you have any questions about Google for Jobs or about listing your graduate roles on Prospects.ac.uk, contact us on 0161 277 5200 or email us.