Postgraduate market insights: November 2017
Author

Charlie Ball, Head of higher education intelligence

Posted

November, 2017
The most recent Destination of Leavers of Higher Education (DLHE) data, looking at UK graduates from 2016, showed a significant increase in the number of new graduates going on to Masters qualifications
The proportion of graduates entering further study after six months went up from 13.1% to 15.7%. In total, over 6,000 more graduates took a Masters qualification on graduation last year.
| Subject | All graduates (both UK and non-UK) |
| --- | --- |
| Management studies | 13425 |
| Business studies | 13020 |
| Finance | 9970 |
| Law | 7195 |
| Psychology | 5470 |
The most common subjects at Masters level show a strong focus on business services - the top five are shown above.
For UK graduates, Masters in education, history, politics and HR are also important. HR is an interesting qualification as the majority of UK graduates take the subject at postgraduate, rather than undergraduate level; politics also has a relatively high proportion of postgraduate qualifiers compared to undergraduate awards.
Outcomes for Masters graduates
Outcomes are much as they have been in previous years. Full-time Masters graduates have good outcomes but ones that are significantly less favourable than their part time counterparts. A feature of the full-time Masters labour market since the recession is that the unemployment rate for full-time Masters now outstrips the rate for their undergraduate counterparts - and this holds across most subjects.
Outcomes for UK domiciled Masters graduates from 2016: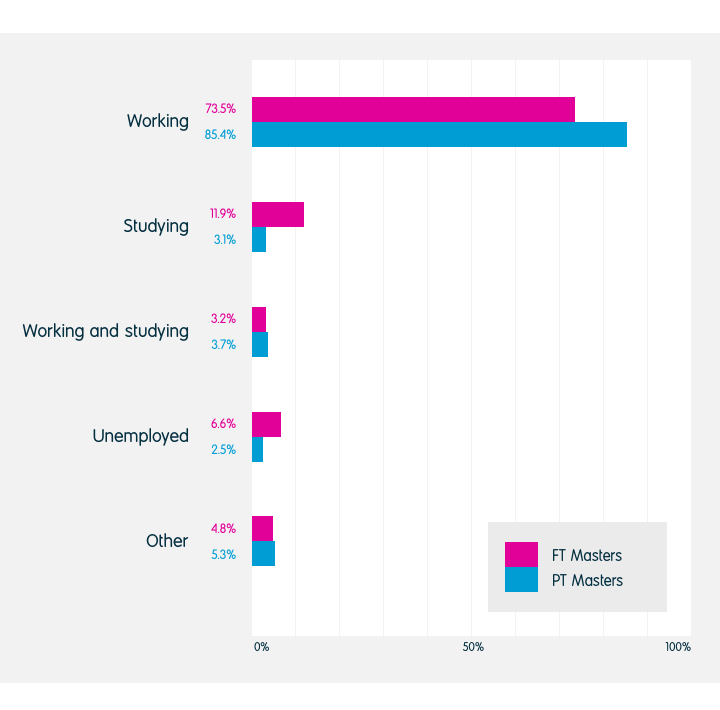 However the picture for the full-time cohort is much less gloomy than it appears - they are significantly more likely than full-time undergraduates to be in graduate-level employment.
| Role | Number of UK domiciled Masters entrants in 2016 |
| --- | --- |
| Nurses | 980 |
| Secondary education teaching professionals | 955 |
| General and niche business professionals | 930 |
| Social workers | 920 |
| Marketing associate professionals | 775 |
| Medical practitioners | 745 |
| Higher education teaching professionals | 735 |
| Management consultants and business analysts | 655 |
| Human resources and recruitment | 590 |
| General and niche teaching professionals | 580 |
| Programmers and software development professionals | 550 |
| Finance and investment analysts and advisers | 530 |
The list of most common roles for Masters qualifiers is above.
It appears that those who take Masters degrees may have increased aspirations as a consequence of their qualification, which means that they are less likely to settle for employment below professional level, and consequently they are more likely to remain out of work until a job that they find suitable arises. This can be an issue as for many general Masters qualifications, there is no specific employment niche; there is no 'Masters degree market' for non-vocational qualifications and a Masters degree by itself does not necessarily confer improved employability.
However, there are Masters-specific niches with significant demand - some of the UK's most difficult vacancies to fill are for Masters-level training. Surveying, radiography, planning and specialist nursing and social work are all niches in this area, so there are some Masters that are very much in demand, and continued skills shortage means that this is likely to continue and that other niche professional areas in engineering, construction, IT and business services, amongst others, might also follow suite in the next few months.