Labour market insights: November 2016
Author

Charlie Ball, Head of higher education intelligence

Posted

November, 2016
The most recent round of jobs data from the government showed a labour market that is in good health despite the ongoing political and economic uncertainty surrounding the nation's vote to leave the European Union
With many business sectors concerned about the supply of skills to the economy, what is the current state of the graduate jobs market, and of graduate supply, and what does this mean for businesses who want to ensure they can access the best talent?
2015's graduates were surveyed at the beginning of the year in the annual Destination of Leavers from Higher Education survey. This is a high quality data collection exercise that polled well over 300,000 first degree graduates to find out what they were doing six months after they graduated. The data showed a graduate labour market in the best shape since the recession, with prospects for new leavers having recovered from the harsh economic weather of the long downturn and prospects back to where they were in 2007.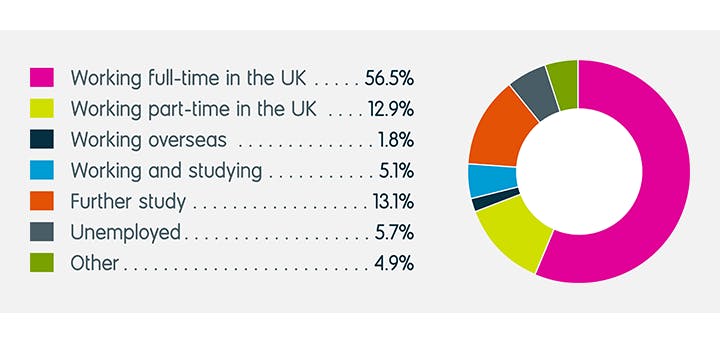 Outcomes for UK graduates from 2014/15 after six months.
One crucial feature that is not often mentioned in analyses of the jobs market is that last year we saw a significant fall in the number of UK graduates getting first degrees compared to 2014 - down 25,900 graduates. This, along with strong growth in graduate job creation, has meant that longstanding graduate occupational shortages have worsened, particularly in health, education, construction, engineering, IT and sales, and this has meant that graduate vacancies in some roles were particularly hard to fill.
Data from the 2015 Employer Skills Survey, a large survey of 95,000 employers conducted last year by the UK Commission for Employment and Skills, suggests that a majority of employers attempting to fill vacancies in jobs as diverse as surveying, mechanical engineering, nursing, veterinary medicine, software development, accountancy technician roles and project valuation struggled. And as the Bank of England has reported, firms trying to fill these vital roles have turned to overseas nationals to fill the gaps. For obvious reasons this route may become more difficult in the future and so business may have to face the possibility of a weaker jobs market and economic environment in which it is nevertheless no easier to fill crucial technical and financial vacancies. This will mean many will need need to be creative in order to ensure a supply of talent to maintain or even grow business.
Apprenticeships are one potential way of addressing long-term skills shortages, but they may not be suitable for short-term needs or for all roles. Another method is to get firmly to grips with the nature and dimensions of the available talent pool, the numbers of graduates leaving university in particular disciplines, and where they are and how those dimensions have changed. Although London maintains its position as the most popular location for new graduates to start work, in reality only a minority of graduates who work there have not either lived or studied there in the past. Most graduates start their careers close to either their institution or their home domicile, and location of employment is a key factor in decision-making.
But whatever the economic future for the UK, the long-term trend is for increasing graduate employment. The UK is and will remain a high skills economy and will continue to have a strong demand for graduates in the future - and that means in many areas of the economy, there will still be considerable competition for the best talent. Businesses armed with the best possible intelligence about the graduate population are those who will thrive in a competitive labour market.
Find out more