Taught course
Medical Imaging
Institution

University of Leeds · School of Medicine

Qualifications

MSc

PGDip

PGCert
Visit the institution website for COVID‑19 updates
Entry requirements
A bachelor degree with a 2:2 (hons) in a biological/physical science, radiography, medicine or dentistry equivalent.
This course is also available as an intercalated programme to students who have completed three years of a UK medical degree (or international equivalent). Read more at Intercalation.
English language requirements
IELTS 7.0 overall, with no less than 6.5 in any component. For other English qualifications, read English language equivalent qualifications.
Months of entry
September
Course content
Medical Imaging is an essential component of modern medicine and plays a key role in the diagnosis, treatment and monitoring of disease. This course is designed for recent graduates preparing for a career in medical imaging, medical students wishing to intercalate, healthcare professionals working as radiographers, sonographers, medical physicists, technologists and medics. Our Medical Imaging MSc covers:
the scientific principles involved in the different imaging techniques and image formation,

applications in the field of radiology

current issues in a modern radiology department
Develop and connect
Whilst not a clinical skills course, the teaching of technical aspects of imaging techniques is firmly grounded in their clinical usage. Many of our lecturers are at the forefront of research in their field and you'll benefit from their expertise in the latest techniques and understanding.
We have a long history of providing medical imaging research and teaching in the application of the physical sciences to medicine. Our Medical Physics group was established in 1948 so we have a strong history of research and teaching in the field of medical imaging.
Course highlights
You'll be taught be academics who are actively engaged in research and collaboration, and this is reflected in their teaching. Recently we have provided the academic lead in collaborative projects involving GlaxoSmithKline, Siemens, Philips Healthcare, Thales Angenieux, Kidney Research UK and Breast Cancer Now.
Our team of lecturers and research active academics will share their expertise with you through their teaching across a wide range of core and optional modules including: magnetic resonance imaging (MRI), Ultrasound, X-ray computed tomography (CT), Radionuclide, paediatric radiography and forensic imaging.
We offer the widest choice of modules, making our courses appealing to both UK and international clinical radiographers, medics, medical students and non-clinical researchers and technicians. You have the opportunity to tailor your learning through our range of optional modules which are available for both full time and part time study.
Our courses
We offer three medical imaging courses to suit your own learning needs. If your ambition is to further develop your knowledge about the theoretic principles underpinning the different modalities you use in a clinical setting, our postgraduate certificate or diploma may suit you. If you are particularly keen to develop a career in academia and research, our masters course is the ideal stepping stone to commencing a PhD at Leeds.
You may transfer from your original programme to another one, provided that you do this before you have completed the programme and before an award has been made. Part-time study is also an option.
For medical students, our intercalated MSc course provides a solid grounding in the physics involved in different imaging techniques and will enhance your imaging knowledge in preparation for your career in medicine. Intercalation on our MSc course will also provide you with advanced learning which develops the essential knowledge and research experience that will be particularly useful if you are keen to pursue a career in many areas of medicine, not just radiology. Students wanting to intercalate after year 4 of the MBChB in Leeds should undertake their medical elective in the summer before starting the MSc to avoid clashes with the MSc research project and their elective.
Watch a recording of our recent School of Medicine webinar which highlights our MSc Medical Imaging postgraduate course to prospective students from around the world. The Programme Lead – Dr Kengyelics provides a useful overview of the course; the modules and course structure; the various optional modules; and a recent student provides some helpful infomration about her experiences studying the course.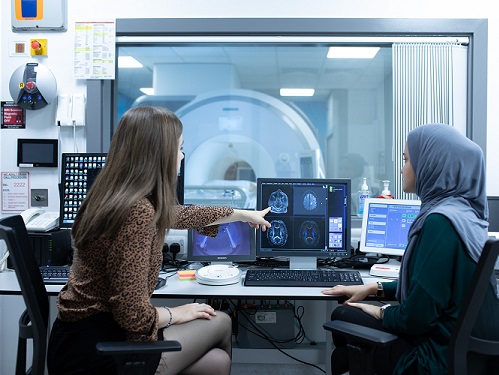 Course content
Our programme structures allow you to design your own pathway to suit your personal interests and professional ambitions. You will choose a combination of modules that builds a bespoke qualification through a mixture of compulsory, core and optional modules to suit your needs.
You'll study modules worth a total of 180 credits. If you study this programme part time you will study fewer modules in each year.
Through the course you'll become familiar with a range of medical imaging techniques. By the end of it you should be able to:
Demonstrate knowledge and understanding of the physical and mathematical aspects of image formation of a range of medical imaging techniques;

Describe how image formation occurs and how contrast is produced for several imaging techniques in relation to the anatomical and physiological properties of tissue;

Understand the health and safety considerations for selected imaging techniques;

Demonstrate an understanding of a range of clinical and other applications of medical imaging, and be able to critically appraise their potential benefits and drawbacks;

Demonstrate enhancement of their professional skills in communication, problem-solving, learning effectively and quickly, and effective self-management;

Apply common and where relevant specialist information technology in literature searching, analysis and display of data;

Produce written work, conveying technical information appropriate for the intended academic or professional audience in English

Critically evaluate relevant published work, demonstrating an understanding of the underpinning principles of statistics, project design and data analysis;

Develop research questions, and undertake research directly or indirectly related to the discipline of Medical Imaging part of which includes the development of a research question/hypothesis, critical review, the choosing and application of an appropriate investigative method, presentation of results and finally a critical discussion of the findings with a conclusion.
As an MSc student, you'll undertake a research project in the field of medical imaging. New research topics are available each year and typically include projects in MRI, Ultrasound, X-ray and their clinical application. You'll be asked to state your preferred research project. Before projects are allocated, you are encouraged to meet potential supervisors and discuss the research work.
The course is also available to study as PGCert and PGDip. See our couse website for more details.
For the 2022-23 academic year, you can join us either in person or online.
You can study flexibly to suit your own learning style and circumstances. Attend teaching sessions entirely on campus, or join online exclusively through our virtual classroom environment. You can even mix and match online and in-person attendance. Our libraries have an enormous amount of material available online, including the top scientific journals, which will support you to successfully complete your studies from off-campus, allowing you to study away from Leeds to suit your personal and professional needs. All applications will be processed to allow you to study in the UK, offering you the greatest flexibility.
Information for international students
Improve your English
International students who do not meet the English language requirements for this programme may be able to study our postgraduate pre-sessional English course, to help improve your English language level.

This pre-sessional course is designed with a progression route to your degree programme and you'll learn academic English in the context of your subject area. To find out more, read Language for Science (6 weeks) and Language for Science: General Science (10 weeks).

If you need to study for longer than 10 weeks, read more about our postgraduate pre-sessional English course.
Fees and funding
Scholarships and financial support
If you have the talent and drive, we want you to be able to study with us, whatever your financial circumstances. There may be help for students in the form of loans and non-repayable grants from the University and from the government. Find out more at Masters funding overview.
Qualification, course duration and attendance options
MSc

Campus-based learning

is available for this qualification

Campus-based learning

is available for this qualification

PGDip

Campus-based learning

is available for this qualification

Campus-based learning

is available for this qualification

PGCert

Campus-based learning

is available for this qualification

Campus-based learning

is available for this qualification
Course contact details
Name

School of Medicine Postgraduate Admissions

Email