Taught course
Clinical Embryology (Distance Learning)
Institution

University of Leeds · School of Medicine

Qualifications

MSc

PGDip
Entry requirements
A bachelor degree with a 2:2 (hons) in a biological or related science or equivalent qualification.
We will also consider applicants with appropriate or accredited experience within an embryological laboratory.
You should be employed in a laboratory practising clinical embryology and with an employer who supports you in allowing free time for study.
You must also have access to email and the internet, as well as to a medical library or online journals.
English language requirements
IELTS 6.5 overall, with no less than 6.0 in in any component. For other English qualifications, read English language equivalent qualifications.
Months of entry
January
Course content
The Clinical Embryology MSc is an internationally recognised qualification that provides academic and professional development for clinical scientists and clinicians working in the field. It is delivered by distance learning and by short workshops in Leeds, allowing you to remain in full-time employment. Our academic staff have 20 years of experience in assisting distance learning students achieve their goal to obtain their MSc qualification.
Develop and connect
By studying with our leading experts, you'll have the chance to significantly enhance your subject understanding. We're also commited to fostering a sense of community for those on our course during your visits to campus. This is a great chance to connect with other practitioners from around the world and to build an international network of other professionals.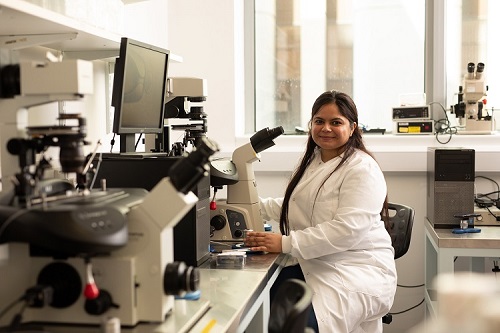 Course highlights
The course will:
Give you a high standard of education in clinical embryology.

Provide an enhanced academic and professional development for clinical scientists and clinicians working in the field.

Offer a recognised qualification which will contribute to uniformity of knowledge in the theory and practice of clinical embryology.
It was the first distance-learning MSc course in clinical embryology, being established in 2000. Since then over 400 students, from around 45 countries, have attended.
A unique feature of this course is that all examinations are taken in Leeds under University rules for examinations. This feature is becoming increasingly important for the recognition, quality assessment and validation of distance learning programmes worldwide.
The programme leader is Dr John Huntriss. Course lecturers include staff from the University of Leeds, Bourn Hall Clinic in Cambridge, Leeds Centre for Reproductive Medicine, University College London, Jessop Fertility Centre, Sheffield and the University of Sheffield.
You can also study this subject at Postgraduate Diploma level (distance learning).
Information for international students
Additional cost information
The fees above are for the whole course including all academic costs associated with the workshops and attendance at the workshop dinner. The fees do not include the six nights' residential accommodation to attend the workshops. (We can send you information about local hotels on request.)
There may be additional costs related to your course or programme of study, or related to being a student at the University of Leeds. Read more about additional costs.
Improve your English
International students who do not meet the English language requirements for this programme may be able to study our postgraduate pre-sessional English course, to help improve your English language level.

This pre-sessional course is designed with a progression route to your degree programme and you'll learn academic English in the context of your subject area. To find out more, read Language for Science (6 weeks) and Language for Science: General Science (10 weeks).

If you need to study for longer than 10 weeks, read more about our postgraduate pre-sessional English course.
Fees and funding
Scholarships and financial support
If you have the talent and drive, we want you to be able to study with us, whatever your financial circumstances. There may be help for students in the form of loans and non-repayable grants from the University and from the government. Find out more at Masters funding overview.
There are no scholarships available specifically for this course.
Qualification, course duration and attendance options
MSc

Distance learning

is available for this qualification

Distance learning

is available for this qualification

PGDip

Distance learning

is available for this qualification

Distance learning

is available for this qualification

Further details of qualification

This course involves 3 x one week long visits to Leeds to take module examinations/assessments and for intensive teaching and workshops. Typically you will attend the University of Leeds in October and July during year 1 and in April during year 2. International students will/may require a short term study visa for each study week. You will complete the rest of your study from your home country and submit your assessments online.
Course contact details
Name

School of Medicine Postgraduate Admissions

Email