Taught course
Cardiac Device and Rhythm Management
Institution

University of Leeds · School of Medicine

Qualifications

PGCert
Visit the institution website for COVID‑19 updates
Entry requirements
Entry Requirements including English Language
GCSE English and Maths grade C or above or equivalent
Relevant undergraduate degree in a related field including BSc (Hons) Clinical Physiology (Cardiology) or BSc (Hons) Healthcare Science (Cardiac Physiology) or equivalent e.g. HNC MPPM, professional body exams such as BHRS
Undergraduate degree in a related field 2:2 including nursing, radiography, or equivalent.
English requirements for candidates for whom English is not their first language:
GCSE English Language grade C or above
IELTS: 7.0 overall with not less than 6.5 in every skill
TOEFL: 600 (paper based) with not less than 5.0 in "test of written English"
TOEFL iBT: 100 with minimum scores of 22 in listening, 24 in reading, 24 in speaking and 25 in writing
The candidate must show on application (personal statement) or during the selection process, the following:
Evidence of recent study (normally within the last 5 years)
Two satisfactory references (one academic)
English language requirements IELTS 7.0 overall, with no less than 6.5 in every skill. For other English qualifications, read
English language equivalent qualifications
.
Months of entry
January
Course content
Cardiac rhythm and device specialists work across challenging and stimulating hospital and community environments, combining patient care with analytical problem solving.
Make an impact
Our Cardiac Device and Rhythm Management course will develop you into a highly competent and advanced practitioner ready to make a real contribution to modern healthcare services. It is designed for healthcare professionals with a specialist interest in cardiac rhythm management and implantable cardiac devices (including pacemakers, ICDs and heart failure devices).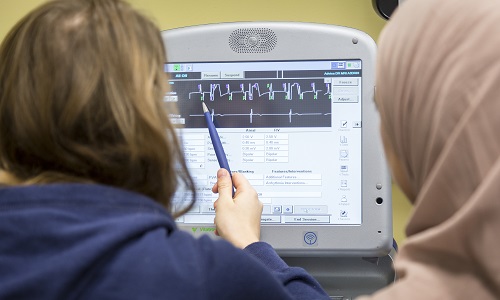 Course highlights
Specialist clinical expertise underpinned by in-depth theoretical knowledge in cardiac implantable devices, including pacemakers, implantable cardioverter defibrillators (ICD) cardiac resynchronisation therapy (CRT) and remote monitoring.
An understanding of the evidence and research base of the discipline.
Teaching delivered by a research active multi-disciplinary team of clinical academics including IBHRE and BHRS accredited cardiac physiologists, specialist nurses and cardiologists ensuring evidence based, research led teaching.
The course features the opportunity to undertake hands on training in implantable loop recorder (ILR) implantation and includes sessions with industry specialists. The course will appeal to a range of healthcare professionals including: Cardiac Physiologists, Hospital Doctors, GPs, Cardiac Nurse Specialists, Physician Associates, Radiographers and Allied Health Professionals.
Information for international students
Additional cost information
There may be additional costs related to your course or programme of study, or related to being a student at the University of Leeds. Read more about additional costs.
Improve your English
International students who do not meet the English language requirements for this programme may be able to study our postgraduate pre-sessional English course, to help improve your English language level.

This pre-sessional course is designed with a progression route to your degree programme and you'll learn academic English in the context of your subject area. To find out more, read Language for Science (6 weeks) and Language for Science: General Science (10 weeks).

If you need to study for longer than 10 weeks, read more about our postgraduate pre-sessional English course.
Fees and funding
Scholarships and financial support
If you have the talent and drive, we want you to be able to study with us, whatever your financial circumstances. There may be help for students in the form of loans and non-repayable grants from the University and from the government. Find out more at Masters funding overview.
Qualification, course duration and attendance options
PGCert

Distance learning

is available for this qualification

Further details of qualification

This is a 9 month course with teaching during 2 x one week long intensive study weeks in Leeds, one in semester 2 and the other in semester 2a. International students will require just one short term study visa because both study weeks are within a six month period. You will complete the rest of your study from your home country and submit your assessment online. – (In view of the current COVID-19 pandemic we will assess the situation of the study weeks closer to the time that they due to run and may need to replace these with online activities).
Course contact details
Name

School of Medicine Postgraduate Admissions

Email